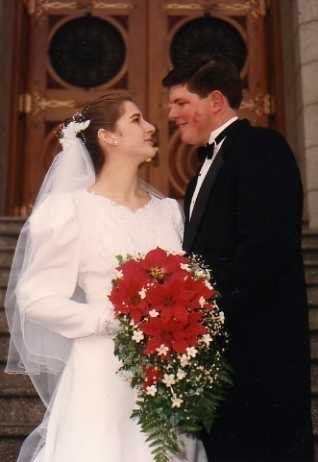 Happy anniversary to me! Ok, to
us
. 13 years ago today dh and I were married. Do you like my sleeves? They're real big. In the early years of our marriage we would usually go somewhere for our anniversary. A night at a local B&B, a surprise flight to somewhere fun. But now our celebrations are a little more low-key. Okay, a lot. We were gone for 5 hours this morning for our first trip to the
Doheny Eye Institute.
We met with a corneal specialist for dh. This afternoon we are going to hit the city library. Tonight we'll go out to dinner. With the kids. So for a little romantic mushy-gushy on this otherwise rainy, gray, ordinary day may I present: Top 13 Reasons why I love my dh. 13. He is a gentleman. He offers old ladies his chair and runs across the street to help a neighbor carry a heavy couch. 12. He is a good cook. And he never complains about my cooking. 11. He does the dishes, folds laundry and has been known to clean the bathroom when it gets too disgusting even for a man. 10. Nice eyes. Even if one is patched. 9. Tall, dark and handsome
and
a great kisser. 8. Can fix or build almost anything. Two-story fort with rope ladder and rock climbing wall? No problem. 7. Wow, 13 is a lot of things... 6. Rubs my feet every night. 5. He enjoys his work and provides for our family. 4. He is smart. Even when I know he is wrong. 3. Tolerates chick flicks. 2. Values family. 1. His primary concern is that I am happy.